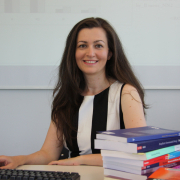 Madalina Chitez
dr.

Senior Research Fellow
madalina.chitez(at)e-uvt.ro
West University of Timișoara (UVT)
Universitatea de Vest din Timișoara
West University of Timișoara (UVT) is the largest higher education and research center in Western Romania. The Faculty of Letters, History and Theology is one of its 11 faculties, gathering around 2000 students and 100 faculty members and researchers. Its profile expanded in recent years, now boasting a generous offer of nine languages: Romanian, English, French, German, Latin, Italian, Russian, Serbian and Croatian, and Spanish.
Both departments within this faculty develop research projects in lexicography. The Department of Modern Languages and Literatures focuses on languages in their use, on applied linguistics, on translation, and lexicographic instruments are fundamental for learners of different languages (monolingual, bilingual dictionaries and dictionaries for specificlexical elements). For example, the research group for the Wörterbuch der Deutschen Mundarten im Banat (in collaboration with Institut für Deutsche Kultur und Geschichte Südosteuropas) aims to recover and highlight the German dialects that coexist in the Banat region, while examining the linguistic contacts between the German populations and other communities (Romanians, Hungarians, Serbs, Slovaks, Bulgarians, etc.).
On the other hand, the Department of Romanian Studies focuses on two directions. First of all, several researchers are involved in the analysis of the history and usage of Romanian dialects. Secondly, members of the department are interested in poetic and literary lexicography, studying works written by different Romanian authors, compiling dictionaries and offering semantic descriptions of the variability of language used in literature.