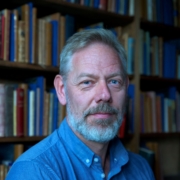 Jon Arild Olsen
Mr.

Senior adviser
jon.olsen(at)nb.no
National Library of Norway
Nasjonalbiblioteket
The primary mission of the National Library of Norway is to implement the Norwegian legal deposit act. Its collection contains everything from books, magazines, and newspapers to photographs, music, film, and radio and TV programmes. Much of the collection has been made digitally available: https://www.nb.no/en/the-national-library-of-norway/
The National Library also hosts the Norwegian Language Bank, a national infrastructure for language technology. The Language Bank provides datasets with Norwegian speech and text that facilitate the development of high-quality language technology for Norwegian. All datasets are available online and most have an open-source license: https://www.nb.no/sprakbanken/en/resource-catalogue/?_origin=language-bank
The Norwegian Language Bank contributes to Norwegian lexicography by providing overview of new words in recent Norwegian publications, by collecting multilingual terminology lists for automatic translation, and by producing a dictionary of Norwegian Medieval Latin: https://www.nb.no/forskning/medieval-latin/
In 2020, the Medieval Latin dictionary project started using Lexonomy.